Experiential marketing is changing how advertisers speak to and engage customers. No longer is attention grabbing advertising about who can have the busiest, noisiest, or most conspicuous TV or print ads. Now, it's about creating memorable experiences through audience engagement activities.
A barrier to experiential marketing that many modern marketers struggle with is coming up with fresh, outside-the-box event engagement ideas. That's why Innovative Group's team of solutionists™ is here. Every day, we help businesses enhance their customer engagement strategies and create unique, memorable, and exciting ways to improve audience engagement. Here are just a few of the ways IG can help:
Increase Audience Engagement with these Event Engagement Ideas
1. Engage with Influencers and Their Audiences
Influencer marketing and event marketing have historically been viewed as separate approaches to marketing. However, these distinct methods are coming together more frequently in experiential marketing initiatives. Developing relationships and partnerships with industry influencers helps to create social media chatter in the influencer's space to bring attention to your brand and events. This is one of those event engagement ideas that helps to extend your message's reach with less effort by capitalizing on the influencer's existing audience.
At Innovative Group (IG), we have relationships with influencers across the culinary, ticketing and hospitality industries. Some of our brand-influencer relationships include:
Mark Conway — chef and show host of Family Meal on Spoony Radio.
Bo Jackson — a chef and former baseball player for the Oakland Raiders and Kansas City Royals who joined us at the World Food Championships.
Andrew Zimmern — culinary expert, chef, restaurateur, author, and great friend of MAXimus.
Tiny Heirlooms — Our partnership with Tiny Heirlooms led to the creation of the Skyview Suite, one of the premier mobile assets that is part of a revolution in premium hospitality services brought to you by INSITE - Hospitality Elevated (more on these later).
Mark Miller — CEO of Ticket Socket, which is revolutionizing the way companies use ticketing.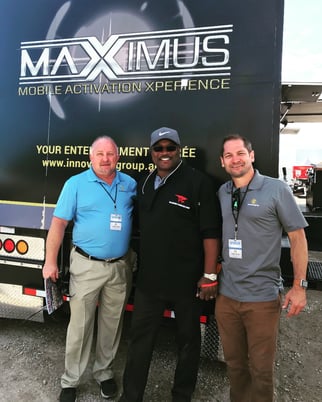 2. Capitalize on Audience Engagement Through Customer Interactions
What sets experiential marketing apart from general event marketing is that it's less about the events themselves and more about the interactions that take place between brands and their customers at those events. It's about knowing how to grab attention in unique ways and develop customer loyalty. One way to achieve this is through the use of interactive games and other experiential methods.
Some examples of our event engagement ideas and experiential marketing initiatives that involved unique customer interactions include our work with Budweiser and Celebrity Cruises. Budweiser partnered with IG to create a fully-branded food truck to host Bud & Burgers events throughout the southeastern United States. Each event featured audience engagement activities, food, cold Budweiser beer, prizes, and larger-than-life games.
Celebrity Cruises also decided to take to the road to promote Celebrity Edge℠, their newest line of ships. This massive experiential marketing effort, which took them more than 11,000 miles in just three months, featured a custom-built, high-definition mobile cinema that allowed audience members to experience the ship through a cinematic experience, while enjoying complimentary gourmet truffle popcorn and local wines.
Coming up, Innovative Group is also collaborating on an upcoming audience engagement program with Ultimate Software that will launch at the 2019 Miami Open at the Hard Rock Stadium.

3. Create Virtual Event Bags or Other Digital Promos for Additional Reach
Not all experiential marketing efforts need to involve handing out tangible goods — there are other ways to engage customers in a particular area as well as reach larger audiences in other states and countries. A few event engagement ideas that higher education institutions, trade show organizers, and sports and endurance event organizers are turning to involve the creation of virtual event bags. This modern take on a classic marketing tool enables event sponsors and exhibitors to achieve audience engagement in a more subtle way, while also providing them with invaluable user data. For instance, with the help of Innovative Group, Celebrity Cruises was able to take guests to various must-see destinations, capture the moment, collect data, and share their "trip" via email and social media.
4. Use Unique and Attention Grabbing Advertising Assets
One of the customer engagement strategies that we like to use at Innovative Group is finding new and innovative ways to promote sponsors while simultaneously increasing audience engagement. We do this through the use of our exclusive premium mobile hospitality and fan brand experience assets:
Mobile Activation Xperience (MAX) — MAX is a massive, state-of-the-art mobile culinary and entertainment venue that wows even professional chefs like Gordon Ramsay and Andrew Zimmern. Featuring top-of-the-line stainless steel appliances and other amenities, this kitchen has everything professional chefs need when cooking at major events — including the kitchen sink.
Dynamic Restaurant Aboard Fire Truck (DRAFT) — This renovated fire truck knows how to fire up a party by packing two 500 lb Southern Pride smokers, a flat top grill, refrigerators, and a beverage tap system that can keep a dozen different beverages flowing.
INSITE Hospitality — Our line of mobile hospitality assets offer a variety of first-class private amenities in climate-controlled spaces. Each suite comes equipped with indoor and unlimited outdoor seating and lounge capabilities, TVs and entertainment systems, and top-quality customer service and catering options.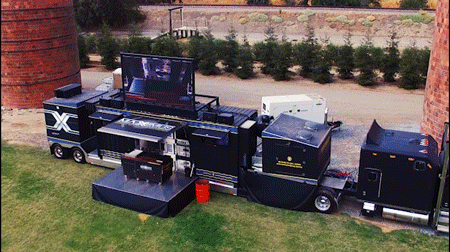 5. Create Unique Behind-the-Scenes Experiences for VIPs
In addition to creating event engagement ideas for general audiences at an event, it's also imperative that companies dedicate some of their efforts to creating more specialized experiences for target audiences as well. Creating the ultimate VIP experience can be a challenge, but it's something you need to get right every time. This is where we can lend our expertise to take your experiential marketing to a new level.
One way we achieve audience engagement is by creating VIP hospitality areas that feature the best food, drinks, and amenities. At the Riptide Music Festival, we created a general VIP area and a Cabana VIP section, which was limited to exclusive pass holders. At Ultra Music Festival, we also offered parking and shuttle accommodations, merchandise and collectibles, and premium hospitality services.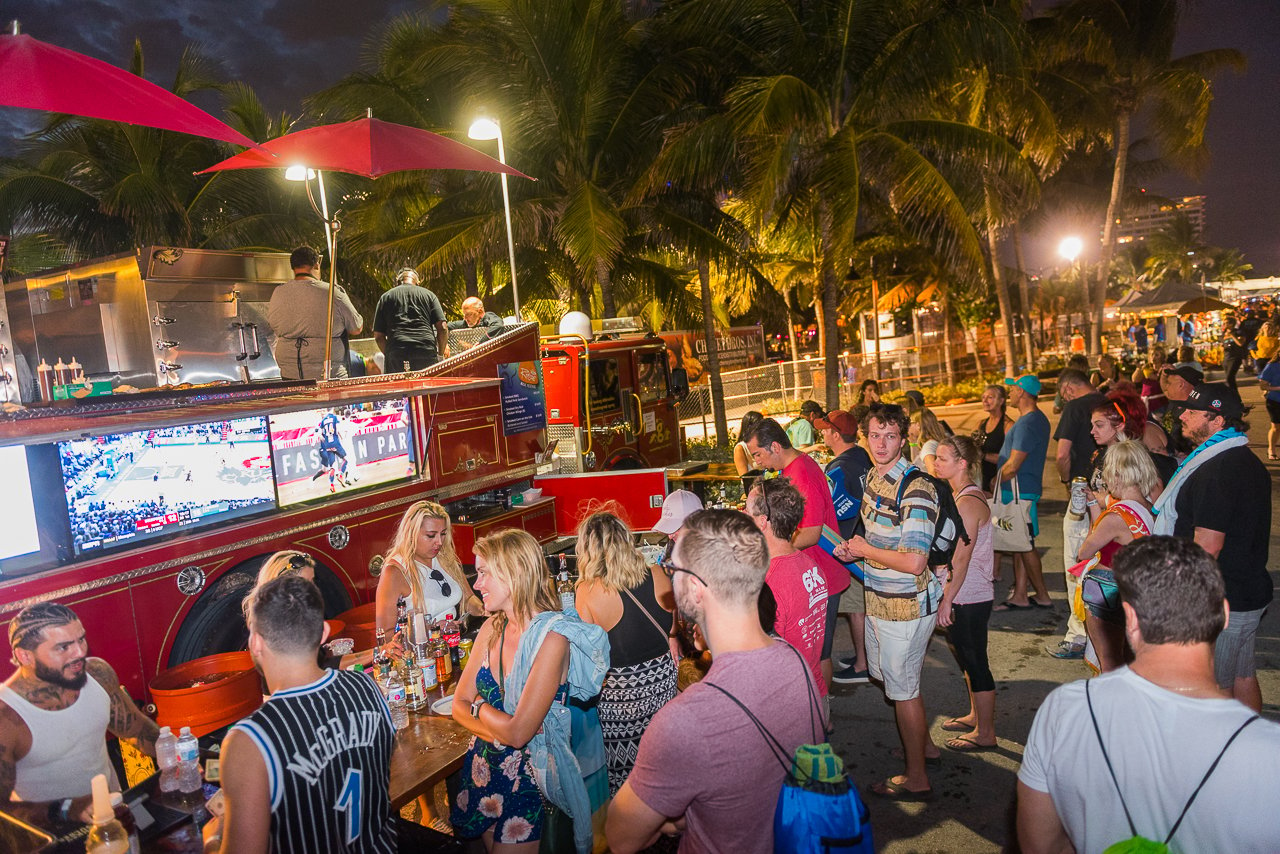 After It's All Done, Don't Neglect to Follow Up
An astonishing 91% of event marketers find post-event audience engagement challenging, according to an industry poll by Eventsforce. In response to this alarming number, Capterra came up with a list of valuable post-event customer engagement strategies using social media:
1. Make contact with your leads — This can be done using social media and email if you have contact information from customers.
2. Encourage an ongoing conversation — Social media and email marketing serve as the perfect platform for this type of engagement.
3. Document your event and use the video content — Video content can be a powerful tool on social media platforms to engage customers.
4. Send personalized thank you messages and elicit customer feedback — This extends the life of the event experience and helps you get feedback about what worked or didn't work for planning future events.

Want to engage customers in a new way? See how our Innovative Group of experiential marketing experts and fleet of unique mobile assets can help take your event engagement ideas to the next level. Contact our team today to learn more.