It was a wild ride for fans and auction-goers at Mecum Kissimmee 2019. Mecum Auctions, the world's largest collector car auction, hosted its event at Osceola Heritage Park in Florida Jan. 3-13. The 11-day event spanned more than 60 acres and featured a variety of road art and auto auctions, food, live performances, cooking competitions, charity fundraisers, and more.
To kick the event into fifth gear, Mecum Auctions partnered with Innovative Group (IG), an experiential marketing agency headquartered in Miami, for the second year in a row. IG provided a variety of experiential event marketing services to fire things up, including the use of a one-of-a-kind Mobile Activation Xperience (aka MAXimus) and their Dynamic Restaurant Aboard Fire Truck (DRAFT). Watch some of the highlights below.
MAXimus and DRAFT Were the Ultimate Show-Stoppers
MAXimus and DRAFT were two of the brightest highlights of Mecum Kissimmee 2019! MAX is a self-sustaining, state-of-the-art culinary and entertainment venue wrapped up in a 72-foot long semi-truck. This experiential marketing mobile asset, loaded with amenities, is ready and able to throw the ultimate party. MAX features:
A 12' X 8' Jumbotron screen and two 55" outdoor TV displays
A high-powered outdoor entertainment system
A full LED lighting package
A high-end mobile catering kitchen, which includes features such as:

Double convection ovens and double fryers
A flat-top grill and large tilt skillet
A 6-tap keg system and walk-in cooler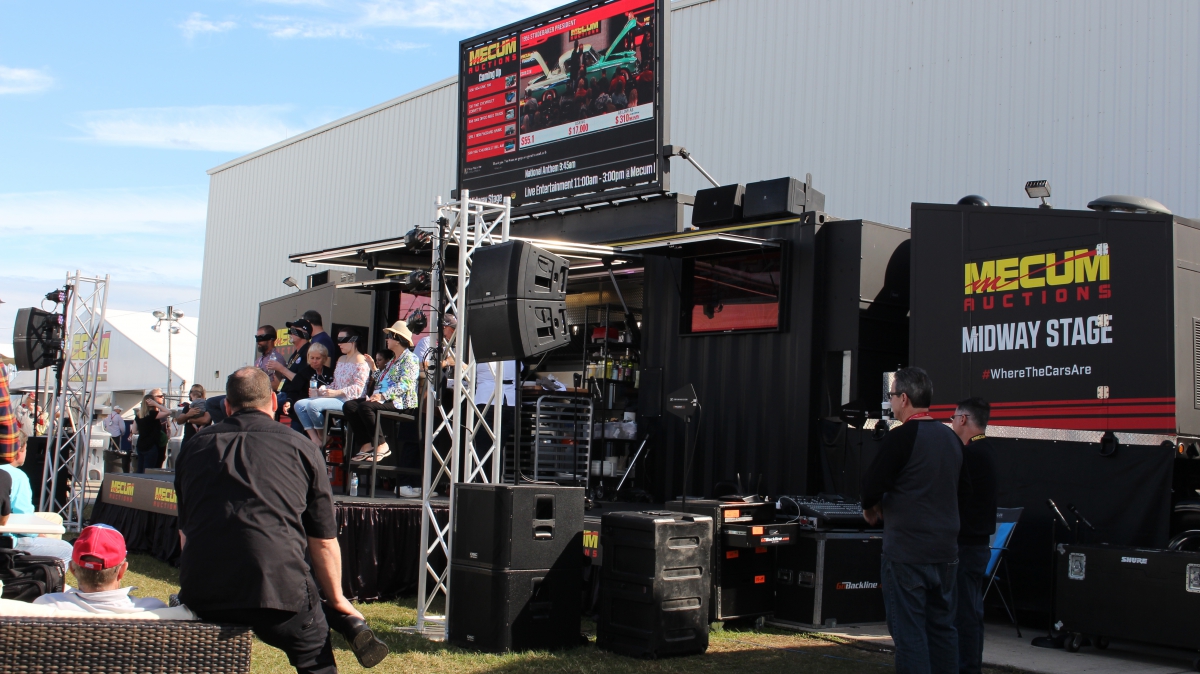 There is virtually nothing that MAX can't do — it has served as everything from a restaurant showcase for the city of Houston leading up to Superbowl LI to Gordon Ramsay's mobile kitchen on the TV show 24 Hours to Hell and Back.
DRAFT, however, does not like to take a back seat to his "big brother" and refuses to be upstaged. Knowing there would be thousands of hungry event goers at Mecum Kissimmee 2019, DRAFT fired up the event with his two massive Southern Pride smokers, which can smoke up to 1,000 lbs of meat every few hours. The team from Savor also worked aboard DRAFT during Mecum to showcase their featured bratwurst, mac & cheese, and short rib burgers. To help wash down all of the deliciousness, the party truck also features:
12 beverage taps, some of which served up several local beers
6 LED screens with satellite TV
Marine-grade outdoor speakers with full rooftop DJ capabilities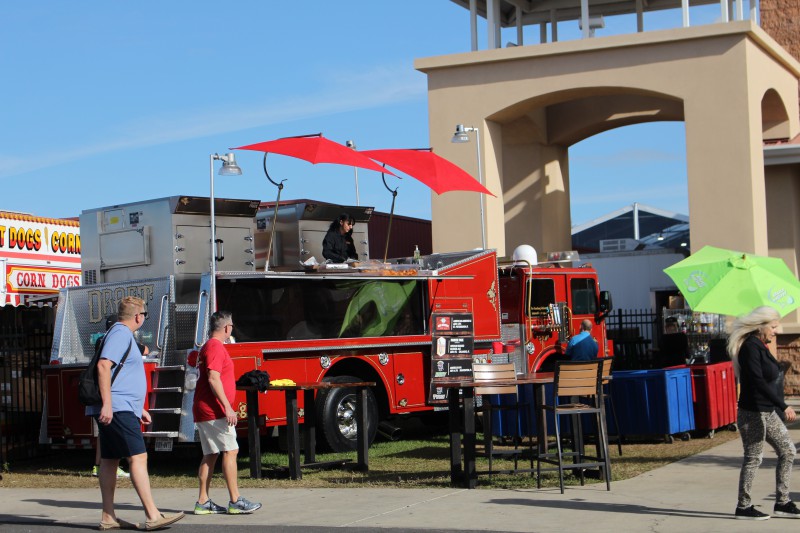 At Mecum Kissimmee 2019, the area around MAXimus was named "The Maximus Lounge" by event attendees. The lounge became the place to be as it was located on the Mecum Midway. MAXimus led the daily car parades, featured video of the live Mecum auctions on its Jumbotron, and was close enough for people to hear the tires squealing from the Dodge thrill rides! He also served as the stage for a variety of performers, including performances and talks by:
MAX Delivered Experiences That Wowed More Than the Audience
Much like other events, performers and event producers alike at the Mecum Kissimmee event were enamored with MAXimus.
"Cooking on this thing was a dream," says Zimmern, who demonstrated at Mecum Kissimmee 2019 and served as the host for the second annual second annual CREaM Mecum Culinary Cup cook-off. "And the fact that it's completely mobile and can be trailed anywhere, it is literally the ultimate in a portable demo stage equipment. As a culinarian, it has everything you want, even a walk-in refrigerator — a walk-in refrigerator! — right off stage... Bucket list, checked!"
Scott Bragg, owner/operator of Fired Up! Entertainment, also loved his experience working with MAX at the Mecum auctions live event:
"I think any event that is, of course, public-oriented, where fans can come and have another element of interaction to get an experience to where they can be part of what's going on, MAXimus 110% serves that purpose. You can put live elements on stage, you can do programming and interactive elements on stage. Of course, the mobile kitchen serves its own purpose. If you've got a large crowd, MAXimus is an A1 fit."
IG Is the Turbo Boost That Can Supercharge Your Next Event
At Innovative Group, our mobile assets and experienced team love to be in the middle of the action — much like we were at Mecum Kissimmee 2019. No matter whether your event is a private corporate function for a few hundred or a public festival for tens of thousands of people, our team and mobile assets are prepared to take your experiential event marketing to the next level.
To see what IG can do to kick your corporate events into high gear, contact our team of innovative marketing solutionists™ today.