In today's heavily-saturated marketplace, consumers are constantly bombarded with marketing messages trying to convince them to buy a product, open a link, or share a post. In this digitally-driven landscape, how can you engage your customers in a way that gets them to actually look up from their smartphones?
By leveraging customer engagement strategies that make them not only recognize your brand for a fleeting moment, but stay loyal to it over time. One of these strategies that is drastically increasing in popularity is known as experiential marketing, a great way to break through the advertising clutter for optimized audience engagement, revenue, and long-term loyalty.
In part one of our two part blog series, we're breaking down the basics of experiential marketing and why it is effective, plus exploring a few event engagement ideas that will drive revenue and loyalty for your brand!
Why is Experiential Marketing Effective at Increasing Brand Loyalty?
With 65% of consumers feeling that a positive experience with a brand is more influential on their buying decision than great advertising, brands that are on board with experiential marketing can see greater profits and long-term brand loyalty. By immersing the customer in your branding, rather than bogging down their news feeds with the same old pitch, you can effectively stand out in a sea of competitors who are still relying on traditional marketing efforts — methods which are no longer as effective due to changing consumer preferences.
Why? The modern consumer desires a two-way relationship with brands. Just knowing the basics of your brand story isn't enough to incentivize them to make a purchase — they want to actually be part of that story themselves. When they feel like they are, your customers will come back to your brand time and time again rather than exploring competitors that haven't made the effort to form this deeper connection. With 95% of marketers agreeing that live events provide attendees with valuable opportunities to form these kinds of in-person connections, experiential marketing can be your ticket to aligning with these consumer preferences.
Take for instance, the experiential activation Innovative Group created for Celebrity Cruises Leading Edge Tour. Over a 3-month program, IG took the story of Celebrity Edge℠ on a cross-country journey, made 48 stops, and traveled more than 11,000 miles. At each tour stop, attendees were welcomed into Celebrity's state-of-the-art, custom-built 87-seat high-definition mobile cinema for a 14-minute cinematic experience, bringing to life what an experience would be like on this new ship. From an engagement marketing perspective, guests also enjoyed wine tastings and custom-crafted gourmet truffle popcorn created by a Celebrity Edge Chef. While at the same time, they were able to travel to their favorite destination and share it to their social media through the magic of green screen innovation.
Through social, experiential marketing amplifies reach for wider audience engagement. How? 98% of consumers create digital or social content at events and experiences they attend — and 100% of those that do will share that content to their social media platforms or with their social circle. Seeing as 72% of consumers claim that seeing their friends posts about branded experiences makes them more likely to purchase from that brand themselves, giving your customers this opportunity to create share-worthy content at an event can quickly become a powerful marketing tool. As the special feature on the Mecum Midway, IG's exclusive asset, MAXimus, helped to reach over 4,441,227 social media users last year by creating such share-worthy content on its stage.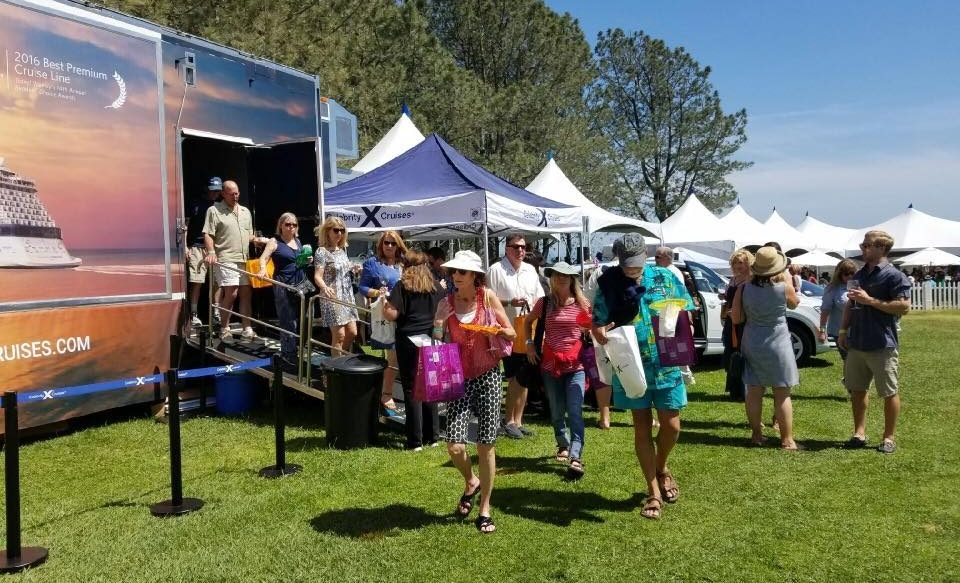 Event Engagement Ideas to Drive Revenue
Opportunities for experiential marketing exist everywhere. Whether you're hosting a stand-alone, private event or leveraging brand activations within larger public events, this customer engagement strategy can be effective for driving revenue and fostering brand loyalty for years to come.
Not sure how to grab the attention of your customers and create event engagement ideas through experiential marketing? That's where an agency like Innovative Group and their unique fleet of mobile assets can help.
MAXimus
MAXimus is a massive, state-of-the-art, self-sustaining mobile culinary venue, that offers brands the opportunity to capitalize on a multitude of unique branding components and product placement uses. With its huge self-leveling stage, fully-loaded professional kitchen, beverage taps, oversized high-definition monitors, and a high-powered outdoor speaker system, MAXimus never fails to gain and maintain the attention of event-goers.
Bring MAXimus to your event and drive attention and revenue by:
Selling stage rights for entertainment and/or food demos
Selling sponsorships to the cooking island
Selling sponsorships to the beverage taps
Selling ads on the MAXimus screens and jumbotron
Selling on-stage sponsor time to clients in between shows
Selling a VIP lounge area in front of the main stage
Customized branding and product placement
Offering sampling and more!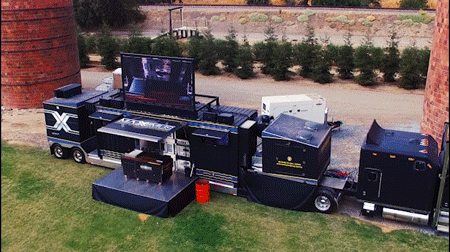 DRAFT
DRAFT, a dynamic, full-service restaurant aboard a fire truck, provides consumers a unique and revolutionary themed catering experience. With two massive Southern Pride smokers, a flat top grill, refrigerators, 12 beverage taps, 6 LED satellite TV's, and a sound system prepped for a DJ, DRAFT is one show-stopping mobile party that's sure to leave a mark in the minds of consumers.
Bring DRAFT to your event and drive attention and revenue by:
Selling sponsorships to the smokers and cooking stations
Selling sponsorships to the beverage taps
Selling sponsorships to the cups used for the beverage taps
Selling ads on DRAFT's TVs
Selling a VIP lounge area near DRAFT
Customized branding and product placement
Offering sampling and more!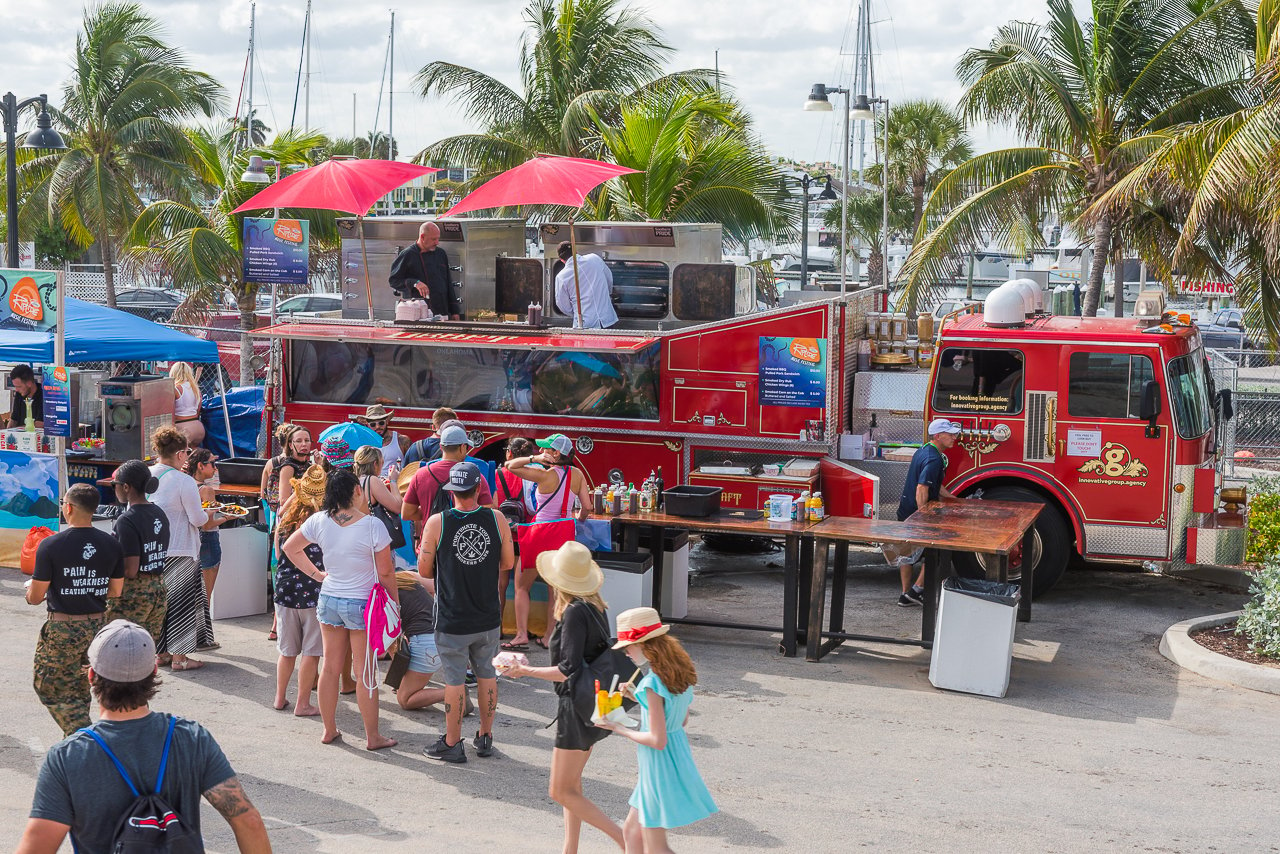 By giving guests an incomparable VIP experience starring first-class cuisine and entertainment options such as culinary showcases or live music, IG'S fleet of mobile assets transforms any event into an experience worth savoring. With extensive revenue and sponsorship opportunities, you can ensure your brand will be not only be seen, but also remembered.
These enhanced and easily shareable experiences can provide your brand with increased social media reach, sales, and customer engagement. Don't just show up to an event — leverage experiential marketing so your brand can steal the show.
Looking for additional event engagement ideas that Innovative Group can provide? Check out part two of our blog series to find out more about the latest in innovative mobile experiential marketing assets from INSITE Suites.