In a highly competitive business landscape, your customers have lots of options when it comes to who to buy from. If you want your customers to be so faithful to your brand that they never even consider your competitors, building strong brand loyalty is the key.
Crafting brand experiences can be a powerful way to do just that—but only if it's done correctly. To create an experience that truly resonates with your audience and drives customer engagement, you may need to call in the professionals.
So, let's look at why branding is important in the first place, how brand experiences can be your competitive advantage, and why investing in the help of an experiential agency will feel more than worth it once you're reaping all the benefits of brand loyalty!
Why Branding is Important
Branding is more important now than ever before, but why? Today's consumers have very different preferences than those from generations past. People aren't looking to just buy products anymore—they want to buy into a complete experience and develop a deeper, long-term connection with the companies they're buying from.
So how can you align your marketing initiatives to your customers? In a crowded marketplace with numerous companies offering the same types of products and services with similar features and price points, you can no longer differentiate on these things alone. That leaves the question: "What can you differentiate on in order to build strong brand loyalty?"
Branding. But we don't mean traditional marketing materials that simply show what you sell and why you think your customers need it. When we say "branding," we mean telling your unique story in a way that resonates with your audience and is infused into every aspect of your business.
Your brand values should shine through your products and services, website, social media posts, marketing materials, and every conversation you have with your customers. By inviting consumers to truly be a part of your brand culture, you can build strong brand loyalty and foster long-term relationships that keeps them coming back for more.
The Power of
Brand Experiences
Now that you know why branding is important, you're probably wondering how you can create this deeper level of brand interaction that leads to long-term loyalty. One of the most powerful ways is through experiential marketing!
Experiential marketing is a strategy that involves creating hands-on brand experiences your customers can actually participate in. This approach can help you build strong brand loyalty because it completely immerses the customer in your branding—which is much more effective than just telling them about it.
So, if you're looking to increase customer engagement, brand experiences could be your solution. If you get it right, your experiential marketing events or activations can create raving fans that will become advocates for your brand. But if they're thrown together hastily or come off as not authentic, you won't get the results you're looking for. How can you ensure you're taking the right approach that will help you gain long-term customer loyalty?
How
Brand Experience Agencies
Can Help You Build
Strong Brand Loyalty
There's a lot of behind-the-scenes work involved in creating a brand experience, from thinking up the original idea to promoting it to your audience, planning the logistics, and actually executing on that event and experience design. Then, you have to effectively manage the venue and event the day of, plus follow up with your attendees afterwards if you really want to drive customer engagement.
As a marketing director or brand manager, you already have a lot on your plate, so taking all this on alone (or even with a few team members) can be a challenge. Turning to the professionals can help! Brand experience agencies who know the ins and outs of experiential marketing will have the expertise, resources, and manpower it takes to turn the brand experience you've dreamt up into reality.
Looking for a brand engagement example that shows just how powerful experiential marketing can be in practice? When American Express was developing a launch strategy for their Premier Rewards Gold Card, they were looking for a way to engage consumers in high traffic areas. What better place than airports, which host hundreds of thousands of travelers each and every week? Knowing that simply standing in the terminal and passing out promotional pamphlets wouldn't do the trick, American Express turned to Innovative Group to create a brand experience that would stop travelers in their tracks and actually make them pay attention.
Innovative Group created a state-of-the-art display modeled to look like the inside of a first class commercial airliner, which became AMEX's flagship entree into the Airport environment.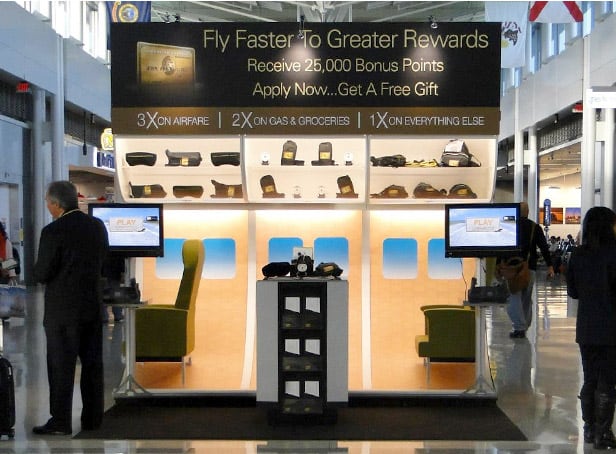 The experience was complete with a realistic, interactive flight simulator that featured everything from faux seats to window portals and overhead luggage space. The simulator allowed users to navigate a virtual plane while subliminally learning about the benefits of the new PRG credit card, while uniformed sales representatives dressed as flight attendants and pilots engaged with guests and answered questions.
Thanks to the innovative and eye-catching event and experience design, this three month strategy was so successful that it was extended four additional times at five major US airports—reaching an estimated four million travelers! By focusing on consumer engagement and fostering brand interaction rather than just pushing a product, American Express was able to create an experience that its participants won't soon forget.
Now, when those consumers are deciding where to open a new credit card or a friend asks for a recommendation, they'll think of the fun experience they had with American Express—one that was so different from the way other credit card companies have interacted with them.
What will the end result be if your company can achieve something similar? Customers that become advocates for your brand, buying from you again and again rather than just making a one-time purchase!
Experience
Brand Loyalty Benefits
by Partnering with the Right
Experiential Agency
Working with brand experience agencies can help you put on brand experiences and experiential marketing events that will create raving fans! However, if you want to truly experience the brand loyalty benefits you're looking for (like repeat customers that mean additional sales, and therefore higher revenue) the key is to choose the right experiential agency for your needs. Why is this so important?
If you choose an experiential agency that isn't willing to put in the time and effort to truly understand your business, goals, and customers, the brand experiences they're helping you put together won't reach your audience the way you want them to. That's why Innovative Group is dedicated to uncovering the deeper wants, needs, and pain points of your target audience in order to craft brand experiences that align.
From helping you brainstorm event ideas to creating promotional materials, building out activations, conducting venue management and more, Innovative Group is your partner throughout every stage of the process!
Are you ready to keep your customers coming back for more time and time again? Innovative Group is here to help you develop and carry out initiatives to build strong brand loyalty that withstands the test of time. To get started, reach out to one of Innovative Group's Solutionists™ today!