The Super Bowl is one of the most sought after events of the year, attracting football fans from all over the world. Whether flocking to Miami to attend the game or just to participate in the incredible activities leading up to it, here are the five main reasons to create a Super Bowl Fan Experience.
1. Fans are Looking for an Experience
Fans want to be entertained. In this world of non-stop excitement, there is simply no time for down time. For this reason, at the heart of every Super Bowl lies the desire for brands to connect one-on-one with the consumer, which consumers expect from a worldwide event like the Super Bowl.
In order to get your message out to as many people as possible and connect experientially, you will want to create customer engagement that satisfies their desire to get involved with your brand. This involvement and deeper connection will help foster long-term brand loyalty, which means more revenue for your brand!
2. Drive Customer Engagement
For months leading up to the big game, brands use their Super Bowl sponsorships to drive customer engagement with promotions, giveaways, meet-n-greets, hospitality suites, and other one-on-one approaches for consumer involvement. But it doesn't stop there—experiential marketing continues in the host city and thrives on these three simple pillars: creation, execution, and amplification.
But remember, an experiential marketing program can miss the mark if it doesn't capture brand values and convey the right messaging in a creative way. To accomplish this, it must be executed with an integrated approach to include creative assets, and encompass some sort of digital/social media for amplification.
3. It's the Place to Be
Who doesn't want to be at the Super Bowl? Last year, more than 70,000 people attended the game where New England defeated the Rams, but Officials said more than 500,000 – including 150,000 out-of-state visitors -- flocked to downtown Atlanta for Super Bowl activities that started the week before the big game.
"With this year's game, more Super Bowls will have been played in South Florida than anywhere else. Starting with Super Bowl II in the old Orange Bowl in 1968, the NFL's marque game has grown over time in both TV audience and visitor spending," as noted by Brian Bandell from The South Florida Business Journal.
"This year, Super Bowl LIVE will completely transform Downtown Miami," said Rodney Barreto, MSBHC Chairman. "Our team has worked hard to bring the game to everyone and create a memorable, fun, and interactive Super Bowl experience for visitors and residents alike.
4. To Leave Your Mark
This year's Super Bowl LIVE presented by Verizon will feature something for everyone: evening concerts at the Amphitheater, a Huddle Down Community Stage, Road to the 11th Super Bowl activation, Tailgate Town featuring a Culinary stage, an Environmental Village, live water shows, evening parades, fireworks, and much more. This will be the first time that visitors and the community at large will have the opportunity to celebrate all things Super Bowl at a free-to-the-public event in Downtown Miami. The result? Lots of fun and a lasting impression on sports fans of all ages!
Click to learn how Innovative Group is creating full sustainable event operations at Super Bowl LIVE in Miami!
This year's committee will also leave its mark on our environment by showcasing an environmental initiative: Ocean to Everglades in the Environmental Village. It will be defined by incorporating elements related to our surrounding oceans and the Everglades and will include environmental sponsor activations from the MSBHC's environmental partners.
In addition, Footprint has been recognized as Innovative Group's sustainable product partner, and their line of plastic-free food ware products will be featured in order to eliminate single-use and short-term plastics and to help save our oceans and other waterways.
5. Deliver Continuous Results
When Innovative Group was part of Super Bowl LI in Houston, the city of Houston wanted to showcase themselves as one of the famed eating capitals of the world, and delivering continuous results was their main goal. Through the unique capabilities of MAXimus (the most advanced, interactive, mobile cooking display kitchen in the world) and the other stars of the show (Houston's most noteworthy Chefs), Visit Houston was able to draw the attention of not only the thousands of guests attending Super Bowl LI, but also through the lens of the various news stations capturing and sharing this activation to the world.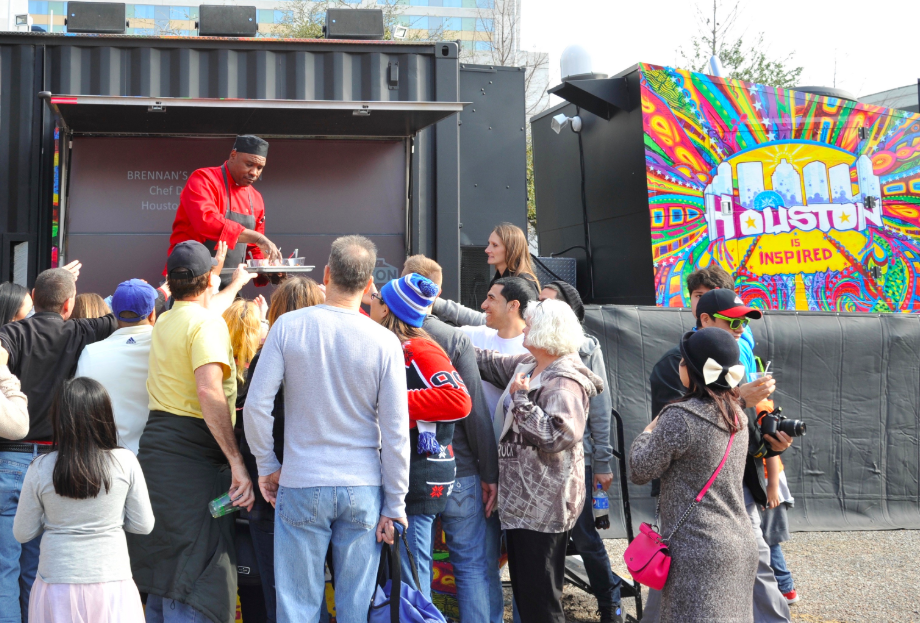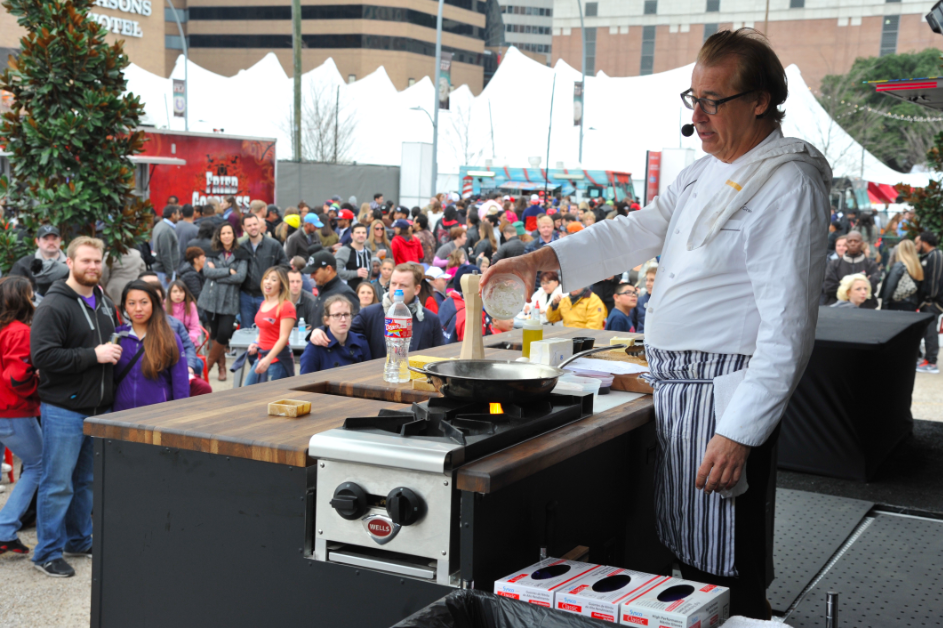 Visit Houston was the shining star with lots of TV exposure, an extensive Social Media outreach, and local community impact seen by the restaurants involved in this activation many months after the event concluded.
Innovative Group is back at it this year in Tailgate Town, where Max's Culinary Stage will take you through the sounds and smells of a true tailgate. Tailgate Town will be an epic pre-game party featuring Celebrity Chefs, tailgating concessions, decorative seating, and games in a family-friendly area. The stage will feature live cooking exhibits and demonstrations from world-renowned chefs and celebrity guests from the NFL community working together through interactive fan activities.
In addition, Innovative Group will be the official culinary operations provider at the 2020 Super Bowl LIVE experience. As the official food, beverage, and VIP hospitality provider at Super Bowl LIVE, all Super Bowl Host Committee and NFL Official Partners will be working in partnership with Innovative Group. 
The Big Game
Fans will be able to kick off the biggest week of the year at Super Bowl Opening Night January 27, 2020 at 7pm at Marlins Park. They can continue to celebrate the culmination of the NFL's 100th season at Super Bowl Experience at the Miami Beach Convention Center and at the Big Game on February 2, as well as at the Super Bowl Experience, opening on January 25, 2020. For more information and tickets, please visit https://www.nfl.com/super-bowl/event-info.
The Super Bowl is an annual opportunity for brands to shine. However, like all campaigns and brand activations, companies must effectively create, execute, and amplify in order to be part of the conversation—even long after the Super Bowl champs are crowned and the MVP of the game is off to Disney.
Innovative Group hopes to see you at Super Bowl LIVE in Miami! Click here to learn more about Super Bowl LIVE and how Innovative Group plans to create a fully sustainable event by partnering with Footprint in support of the Oceans to Everglades Initiative.