As modern consumers become increasingly interested in living the "experience lifestyle," it's now imperative that brands are able to make their events stand out from the rest.
Whether it's a sporting event, concert, festival, or cooking demonstration, creating the fan experience that leaves your attendees wanting to come back for more is essential if you want to drive awareness, loyalty, and revenue.
But where do you start? First, you need to know why improving fan experience is so important, then explore how it can actually be done with a few fan experience ideas to transform your next event!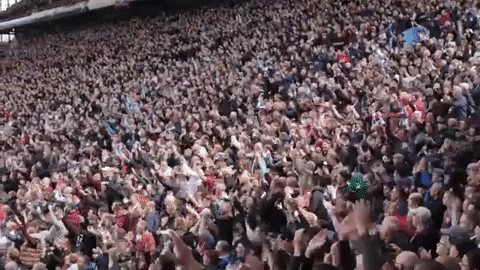 The Importance of Prioritizing Fan Experience
Why invest valuable time, resources, and effort into creating the best fan experience possible? Here are three key reasons why prioritizing your fan experience will pay off.
Build Fan Loyalty
We all know how important a first impression can be. If a fan comes to your stadium, arena, venue, or sporting event for the first time and gets a negative impression, they'll likely never return. On the flip side, an engaging and fun experience will make them want to come back again and again. The takeaway? Making sure every individual who walks into your event leaves with a good impression and positive fan experience can lead to long-term loyalty and repeat customers.
Amplify Your Reach
Happy fans are more likely to share their positive experience at your venue or event with their friends, family, and online social circles. In fact, Esteban Kolsky, founder of ThinkJar LLC, says that "72% of customers will share a positive experience with 6 or more people." This means if just one person leaves your event genuinely amazed with their fan experience, you could soon have six more loyal fans!
Drive Revenue with Sponsorships
Your fans aren't the only ones you should be looking to impress—sponsors also care about the fan experience you're able to provide. Brands are willing to pay big bucks to have their names attached to unforgettable events with excited, engaged, and loyal fans. Valuable sponsorships can help both parties drive brand awareness and revenue for increased success!
Tips for Improving Fan Experience at Your Next Event
Now that you know the value of improving fan experience, your next question is probably "How can I do it?" Here are a few of Innovative Group's (IG) favorite fan experience ideas that will help you take your future events to the next level!
Get Interactive with eSports
Increasing fan engagement at sporting events is essential because there's so much downtime in between plays and during intermissions. If you want to create a game day experience that keeps fans coming back all season long, you need to be able to hold their attention—even when there's a pause in the action. One way to do so is to incorporate eSports, or electronic sporting games, into your next event.
For example, IG conceptualized, designed, and executed an interactive PS4 Game Zone at the MLB All Star game experience in Miami. Prior to the games pitches or innings, attendees were able to show off their own baseball skills by playing the game virtually with their friends and family. This effectively created a game day experience that left fans feeling like they were actually part of the game rather than just spectators.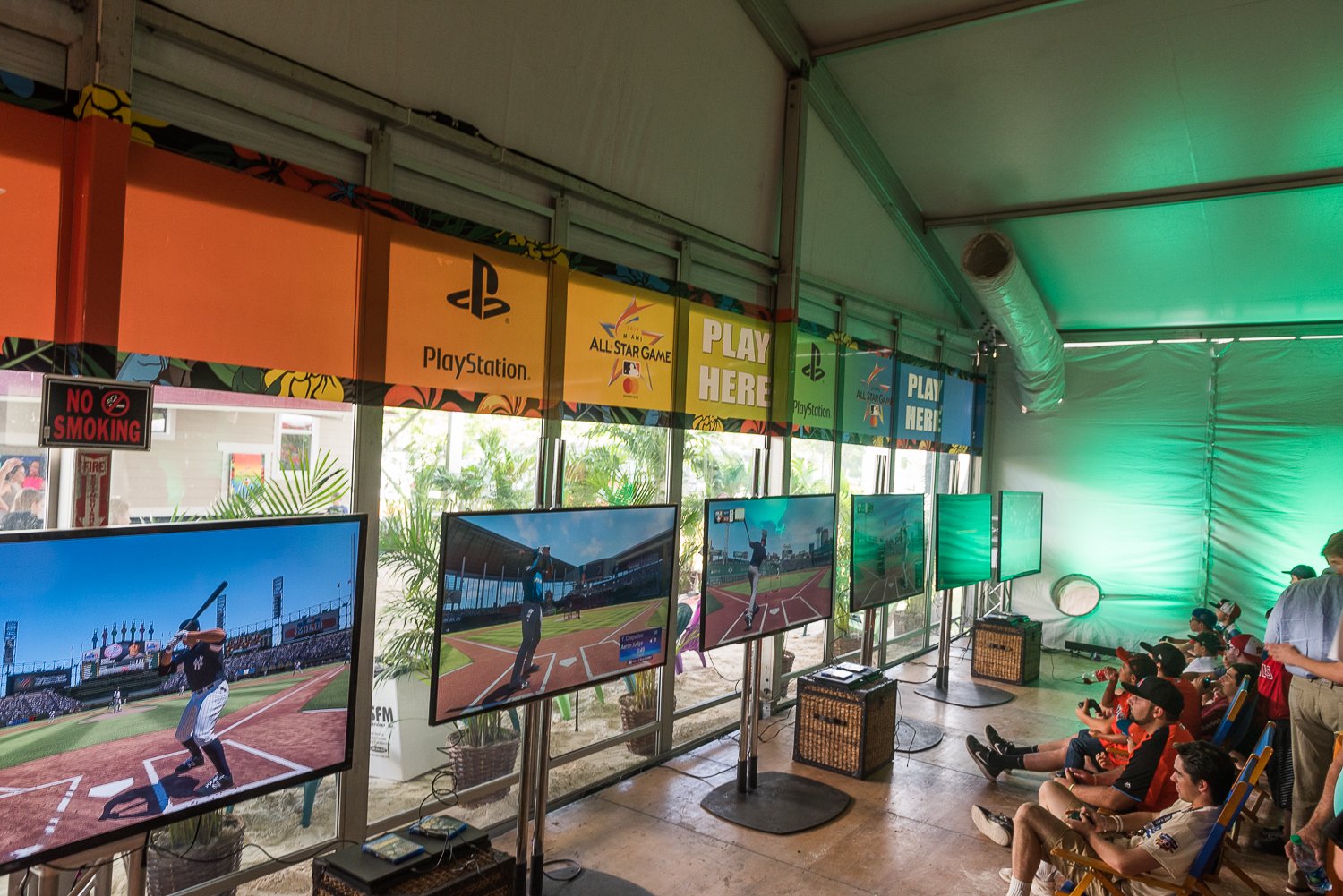 Innovate Your Food and Beverage Offerings
Food and beverage is a huge component of any event. Images of fans snacking on popcorn during the show or having a ballpark hotdog at the baseball game often come to mind when you think about spectator events. However, thinking outside-of-the-box with your food and beverage offerings can be a simple way to make your fan experience more memorable, unique, and delicious!
For example, at Super Bowl LI, IG created an activation that brought Houston's diverse local restaurant scene and massive art exhibit into a one-of-a-kind culinary experience. IG brought along MAXImus, a massive mobile culinary venue, to provide restaurant showcases for the 10 days leading up to the game. Hundreds of thousands of fans dined on Houston-themed dishes from the 92-foot kitchen on wheels as local chefs gave live cooking demonstrations. Garnering lots of TV exposure, MAXImus made a big impact on both the local community and social media—giving attendees an unforgettable NFL fan experience while also reaching those who weren't able to be there in person.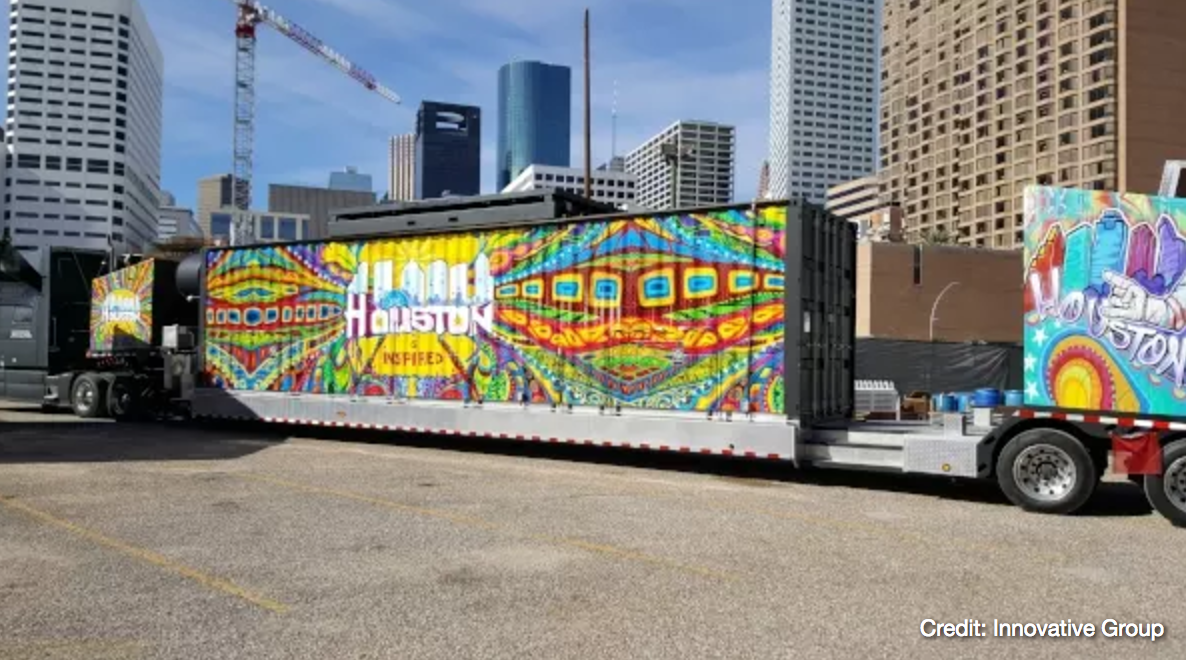 Connect Fans Through Participatory Experiences
Modern fans, especially younger ones, are looking for communal experiences at events that allow them to meet and share their love of the sport, artist, or chef with their fellow fans. This demand for more personal connections has led more teams, brands, and venues to make their events more inclusive and interactive.
IG effectively created one of these communal experiences at the Miami Open by planning, designing, and creating a center court attraction sponsored by Stella Artois with a temporary lounge that was built from the ground up. This immersive experience allowed event-goers to gather in between matches, sip on a cold beer, and meet fellow tennis fans while lounging in comfort on couches and branded pillows. Walking up to a vendor, ordering a beer, and going back to the seats won't give fans a chance to connect with other event-goers—but a participatory experience like the Stella Artois lounge did, creating the fan experience modern fans are craving.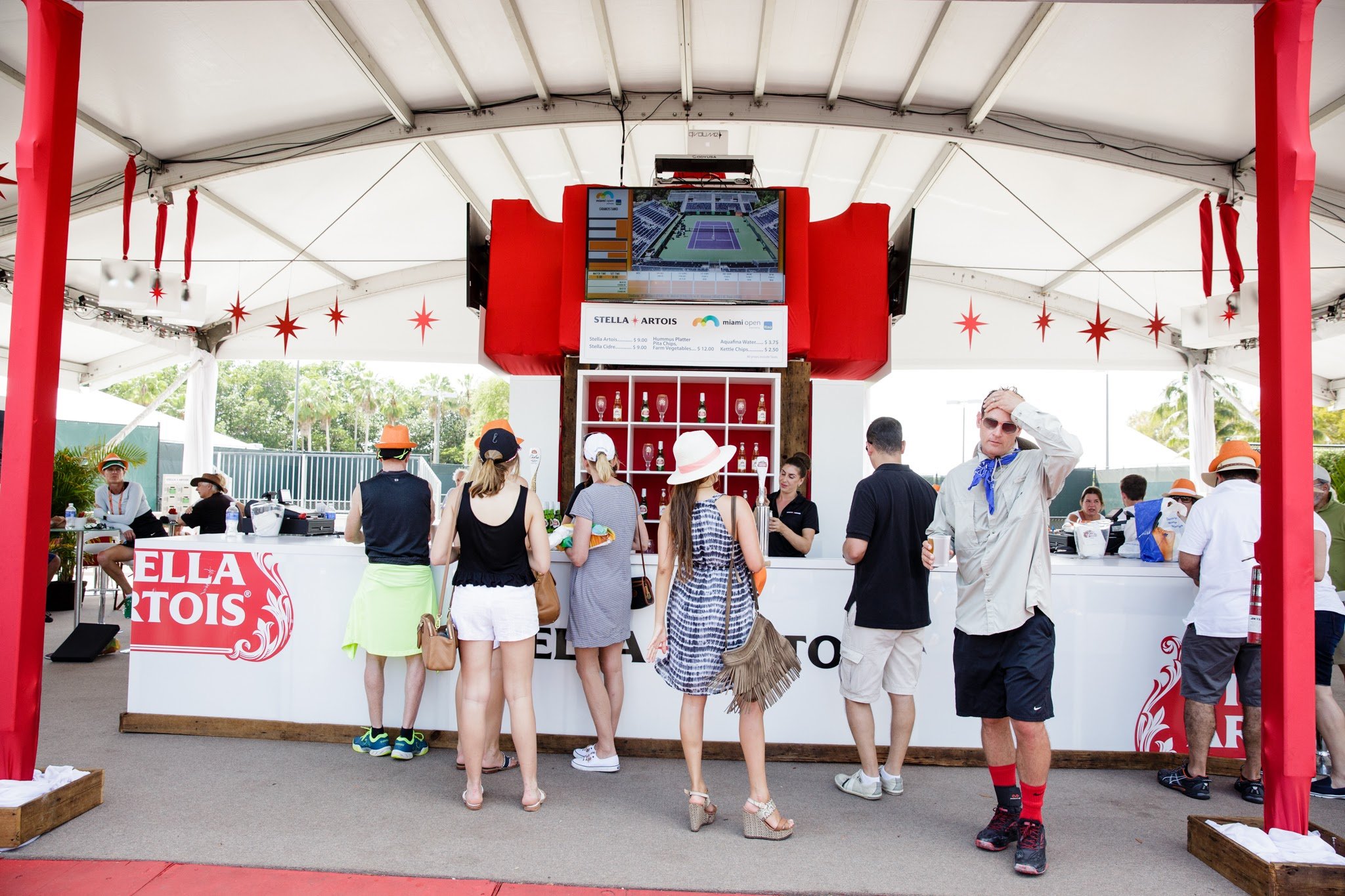 Provide Comfort and Luxury for VIP Fans
While every fan is important, many companies will invite their top customers to their events with the hopes of impressing them to drive more sales. You want to create the perfect setting to entertain your most important clients—but this can be difficult in crowded venues or at outdoor events during bad weather. Luckily, IG has a solution that will give your VIP fans a luxurious and comfortable experience no matter the circumstances.
Their INSITE mobile hospitality suites provide all-inclusive premium hospitality solutions that are sure to impress any big client. You'll be able to bring the comforts of home to your tailgate, game, or event with luxury amenities including climate-controlled air, private restrooms, full service catering capabilities, and nearly endless entertainment options.
For example, IG brought its Traditional Suites to enhance the fan experience at the RBC Heritage PGA golf tournament. It kept VIP attendees cool and comfortable while they watched the action, ate and drank, and were entertained by live music and multiple televisions during a hot South Carolina day!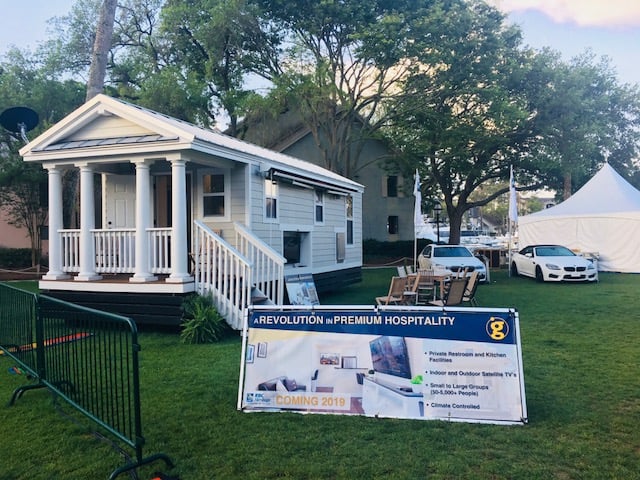 Innovative Groups's mission is to helps its clients achieve the fan experience that will help them drive revenue, awareness, and long-term loyalty. From original conception, to creating promotional materials, implementation, management, and more, their team of solutionists™ are ready to put its insights, expertise, and fleet of unique mobile assets to work for your brand.
If you're looking for guidance when planning your next sporting event or creating the fan experience that will help you meet your goals, reach out to IG today!