Marketing, at its core, is promoting your brand to garner the coveted attention and interest of your current and prospective customers, clients, or consumers by offering them something of value in hopes of securing their business for years to come. It's teaching people about your brand and why they should choose you over a competitor's product or service. How you choose to promote your brand, however, can vary greatly by method as well as your levels of creativity and innovation
As traditional marketing methods and channels began losing steam and left something to be desired, marketers started seeking out new, more innovative methods to engage consumers.
Marketing is, in its true form, an ever-evolving tactic to reach new audiences and maintain current business. An evolution is happening and more and more people are realizing they must adapt or get left behind.
This is where a form of interactive brand engagement marketing — experiential marketing — comes into play.
What is Experiential Marketing?
Experiential marketing, which is also known by other names like "participation marketing," "live marketing," or "on-ground marketing," is a marketing strategy that — you guessed it — engages consumers via branded experiences. These participatory and hands-on applications can be created through a variety of innovative event planning methods with the goal of creating memorable experiences for the participant to associate with your brand. Essentially, this immersive branding is what's going to make you stand out in a sea of competitors as consumers increasingly "tune out" traditional marketing efforts.
According to a 2016 experiential marketing report by Event Marketing Institute (EMI) and Mosaic, 72% of surveyed consumers said they had more positive perceptions of brands that offer opportunities for high-quality event experiences. Moreover, 74% said, "engaging with branded event marketing experiences makes them more likely to buy the products being promoted."
Did you read that correctly? It says 74% would rather engage with and buy a product through an experience rather than learn about it on a billboard. That's a massive audience and marketers everywhere are working tirelessly behind the scenes to develop new and never before fathomed experiential marketing campaigns to target them.
Opportunities for experiential marketing exist everywhere — as stand-alone, private events or as brand activations within existing larger public events or campaigns. According to the 2017 Freeman Global Brand Experience Study, "more than one in three CMOs expect to set aside 21 percent to 50 percent of their budgets for brand experience."
Again another huge number to consider. Up to 50% of a marketer's budget is going towards brand experiences. The market is changing and brands are getting out of the board room and taking their creativity to the streets. Watch that share of the marketing budget continue to rise in years to come as millenials obtain more spending power.
"You need to create touch points that engage attendees in an unexpected way, providing benefit to you, your event, and your sponsor (if they're involved)," says Alyssa Torres, a channel marketer at Eventbrite. Brand activation, experiential marketing opportunities provide the means for a brand's value to become "activated" and realized by the audience, creating a lasting impression.
At Innovative Group (IG), we specialize in creating new and event-centric experiences. We offer a variety of exclusive brand activation assets that get people to interact with, connect with and experience your brand.
Need some inspiration to get your experiential marketing goals for 2018? Here are just a few:
24 Hours to Hell and Back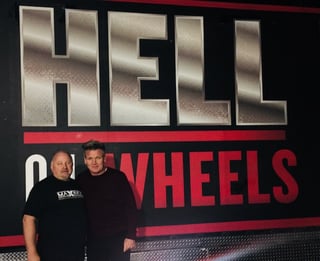 What do you do when you are Gordon Ramsay and you want to combine Hell's Kitchen, Kitchen Nightmares and MasterChef and take it out on the road? You search for a trusty sidekick named Hell on Wheels (AKA MAXimus), travel across the country with him, and you bring failing restaurants back from the brink of disaster – all within 24 hours.
In 24 Hours to Hell and Back, Ramsay, with the help of his Hell on Wheels bud (a 70-foot-long semi-truck that unfolds into a state-of-the-art, completely self-sustaining complete mobile kitchen), re-invents the struggling restaurant's menu, whips the staff into shape, and presents the launch of a revamped restaurant. It's quite the experience!
Celebrity Cruises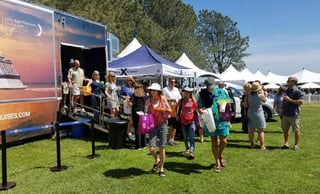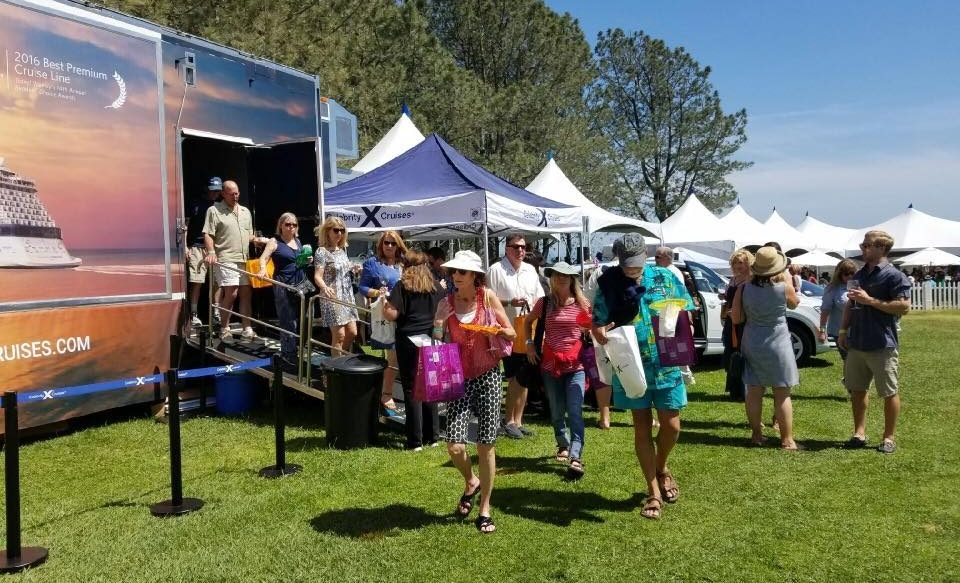 When Celebrity Cruises wanted to showcase its newest line of ships — Celebrity Edge℠, they decided to take their promotional efforts to the next level with experiential marketing. The company took the story of their newest ships on a cross-country journey, traveling more than 11,000 miles in just three months.
At each of the 48 stops, attendees were invited into Celebrity's state-of-the-art, custom-built 87- seat high-definition mobile cinema for a 14-minute cinematic experience. Throughout the experience, guests traveled to their favorite destination through the magic of green screen, while enjoying beverages and custom-crafted gourmet truffle popcorn.
Major League Baseball All-Star Game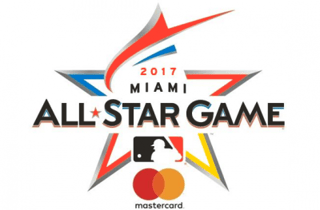 How do you turn an empty parking lot into a premier MLB All-Star Pregame Celebration for 4,000 sports fans in Miami? To answer this question, Innovative Group solutionists™ created a massive, killer event that featured a number of surprise guests, including live DJs, MLB team mascot appearances, and a private performance by Latin Grammy Award winner Nicky Jam.
This engaging marketing event, which offered an experience for virtually everyone, featured:
Cigar rollers

Domino tables

Live salsa dancers

Celebratory love art creation by an artist for a good cause (the Marlins' Foundation)

An interactive Barber and Shave Shop

An interactive PlayStation 4 (PS4) gaming zone
And what's Miami without a beach? Five dump trucks of sand later, and the exclusive All-Star Beach experience was created. The beach was complete with VIP cabanas, a live sandcastle build, corn hole, Mojito bar, lap pool and our private GameDay Traditions beach houses. It was a total sports experience for the baseball enthusiast!

Bud & Burgers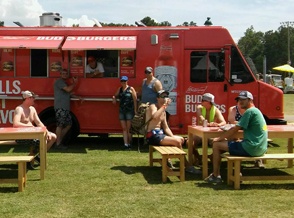 When Budweiser's parent company, Anheuser-Busch, was looking for an initiative that would kick their Bud & Burgers promotion up a notch, an experiential activation arena provided the perfect solution. IG created a fully-branded Bud & Burgers food truck that toured the southeastern U.S. during a two-month period and made an impression on and off the road.
At events, the Bud & Burgers activation area featured a giant-sized Plinko game, prizes, bars, burgers and, of course, plenty of ice cold Budweiser beer.
At Innovative Group, we are solutionists™ who are dedicated to creating immersive experiences that change perceptions about a brand while fostering lasting relationships. If you're ready for your next great brand experiences, contact our team of innovative marketers today to get started.