Experiential marketing is an innovative concept that challenges the status quo of traditional advertising. By creating hands-on experiences your customers can actually be a part of, rather than just encouraging them to buy a product, you'll be able to stand out in a sea of marketers.
In order to enhance your next experiential marketing event and increase your audience, be sure to add digital marketing to the mix. By unifying your digital and experiential marketing campaigns, you'll be able to reinforce your message, show your value, and promote your events in a way that drives awareness, long-term brand loyalty, and additional revenue. How?
Let's explore five major ways that digital marketing techniques can be utilized to enhance your experiential marketing efforts!
1. Use data from your digital marketing campaigns to craft an experiential marketing event that will resonate with your target audiences.
Many companies already have some sort of digital marketing strategy in place that includes initiatives such as email campaigns or social media posts. By looking at the data from these types of initiatives, you can gain valuable insights to help you craft an experiential marketing event that truly aligns with what your target audiences want most.
For example, is there a certain topic you posted about on social media which generated a lot of buzz and engagement amongst your followers? If so, tie that messaging into your next experiential marketing event. Did a particular email campaign have very high open and response rates because it addressed a pain point your customers commonly face? Host a live demonstration at an upcoming event to show how your products or services can help them solve that particular problem.
Leveraging data (which you should already be collecting as part of your digital marketing strategy) makes it possible to align your experiential marketing campaigns with what your customers are actually excited to learn more about or experience!
2. Promote your experiential marketing event through organic content creation.
In today's digitally-driven world, consumers (especially younger ones) are looking to social media to identify the hottest new trends, find local events, and even help them make purchase decisions. Adweek found 68% of Millennials are more influenced by their friends' social posts than traditional advertising. By creating organic content and sharing it on the social platforms your target audiences are most active on, you can effectively promote your experiential marketing event to amplify its reach and generate excitement amongst event-goers. As an added bonus, content creation is a very low-cost digital marketing technique, and posting pieces of content onto your website and social media pages is free!
Looking for some organic content creation ideas to boost the buzz around your next event? Create content that your followers will actually want to read or watch, such as a blog about the event, an engaging sizzle reel, or a series of fun Tweets with your event hashtag. The key here is to be engaging, interactive, and capture the attention of your audience—so much so that they'll want to click "retweet" or "repost" to share something they love with their own friends and followers. Remember to respond to your follower's comments, like their reposts, and be conversational on your social platforms—this will all amplify the reach of your organic content even further, meaning maximum visibility for your upcoming experiential marketing event!
Here is an example sizzle reel from the Mecum Auctions event that Innovative Group was a part of. With our mobile asset MAXimus we were able to create an experience outside of the car auction for attendees.
3. Put your experiential marketing event in front of the right people through paid media.
If you want to expose your experiential marketing event to exactly the right people, consider adding paid media to your content strategy. From LinkedIn ads to Google Ads to Facebook Ads, there are nearly endless options for where to place paid media promotions based on your goals. Depending on the platform, you'll be able to target audiences by different categories, such as demographics like age or income levels, job titles, or specific geographic locations to ensure you're getting your content in front of people who actually will be interested in seeing it.
For example, let's say you're a brewery in Denver hosting an experiential marketing event for consumers to taste your newest craft beer. In this case, you may want to use Facebook Ads to place targeted promotions in front of users with Denver zip codes who have also liked Facebook pages about craft beer! This will put information about your event in front of people who are very likely to attend, or will at least be curious enough to click on the ad and learn a little bit more about your brand since it aligns with their interests.
When writing your ad copy, create witty or engaging headlines that are short, sweet, and to-the-point, but still make it clear what your experiential marketing event is. This will attract people to actually click the link on the ad, which should then go to a landing page for the event on your website. Here, you should have even more info about the event and a form to sign up or request more information. You could even include some of the organic content you've already created on your landing page, for example, embedding your sizzle reel or linking out to the blog you've written.
4. Create shareable moments during your experiential marketing event.
Using various digital marketing techniques is a powerful way to promote your experiential marketing event before it takes place—but your efforts shouldn't end once it is underway. Creating shareable moments during the actual event is a great way to amplify your reach and connect with current and potential customers who weren't able to be there in person.
Creating "Instagram worthy" photo ops is one of those experiential marketing best practices you simply cannot ignore. This can be done by creating an event hashtag, having a photo sharing contest with prizes for the top winners, or setting up fun photo areas with branded souvenirs or props.
For example, when Mecum Auctions hosted its annual auto auction, the largest of its kind in the world, they turned to Innovative Group to create a family driven multi-day event experience as the new Mecum auction platform. Innovative Group utilized its one-of-a-kind culinary performance vehicle MAXimus as the entertainment anchor to the Mecum Midway Experience - complete with live bands, street performers, and the Mecum Culinary Cup challenge. This innovative mobile asset caught the attention of not only on-site event-goers, but also many social media users. In fact, MAXimus helped to reach over 4,441,227 social media users in just one year!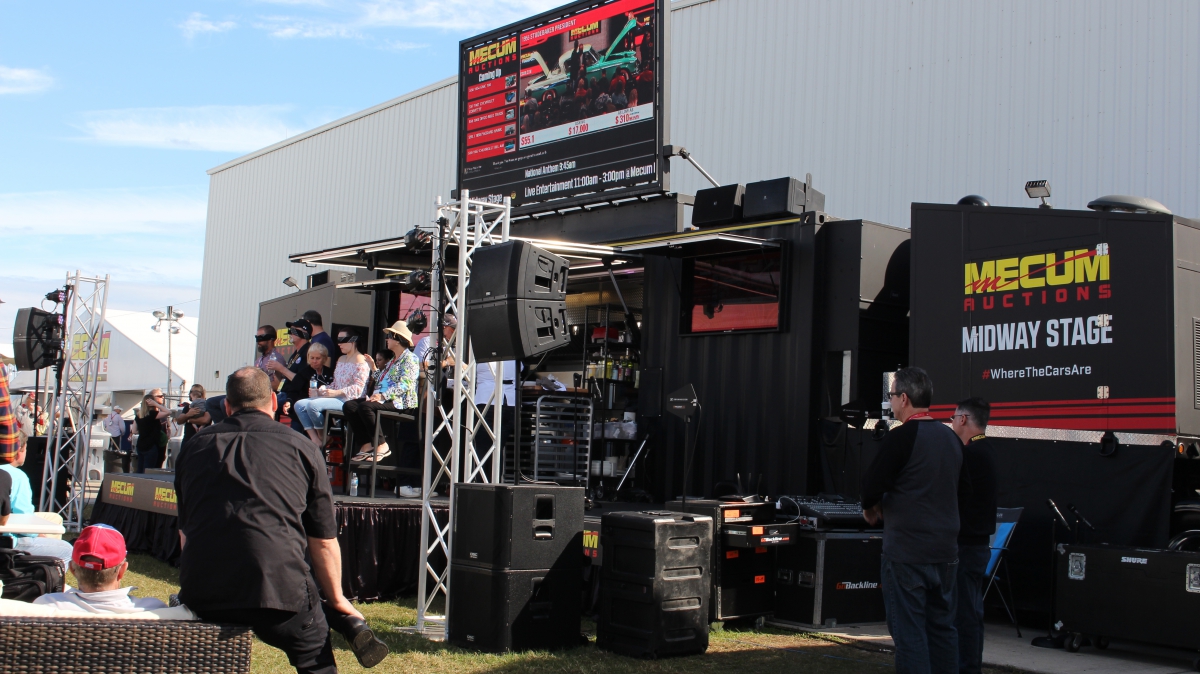 5. Continue to engage with event-goers—even after the event has ended.
There are numerous digital marketing techniques you can deploy after your event has ended to continue driving awareness, building long-term brand loyalty, and increasing sales. This part of the process is key for success—you could host the world's greatest and most fun event, but if you end the engagement there, you'd be missing out on a lot of opportunities to continue building that relationship.
As such, consider following up with your attendees through an email sequence. The first email should thank them for attending the event, which you can make more engaging by embedding a short recap video or a few fun photos. Then, your second email could invite attendees to follow your brand on social media, sign up for your email newsletter, or subscribe to your blog. You could then send another email with a special offer as a thank you for attending the event, such as a coupon or discount code that incentivizes them to make a purchase.
Thanks to an ever-evolving business landscape and new digital technologies, your marketing initiatives won't be successful or stand out from the competition if they're executed through a single medium or channel. Instead, you need to create an engaging, cohesive, and omni-channel experience for your customers. Innovative Group, an award-winning experiential marketing agency, can help you deliver this experience through comprehensive digital marketing and experiential marketing services.
From conceptualizing your event, to promoting it digitally, managing the venue, and helping you follow up with attendees afterwards, Innovative Group can do it all. The result? A digital marketing strategy and experiential marketing campaign that generates even greater success for your brand.
Ready to unify your digital marketing and experiential marketing campaigns? Reach out to Innovative Group today!