What's your story? Your brand identity
Brand identity, which is the message your audience receives from your company, product, or services, is the foundation for which all of your branding initiatives are based. It's what makes your brand unique and communicates who you are to the rest of the world.
Think of Disney, Coca-Cola, Nike — these companies have brand identities that continuously impact people around the world after decades of industry domination. Their identities show their brand personality and help to establish some form of connection with their audience, which is the ultimate goal here.
Establishing your brand's personality requires figuring out the human characteristics that best convey the values and message of your brand, and how they can connect with your audience. Consider Apple: The company's simplistic apple logo conveys a sense of innovation, sleekness, and creativity while still exemplifying professionalism. It makes you feel more creative just by owning and using their products, which are akin to a technology status symbol.
Brand Identity Marketing: Human Characteristics Without People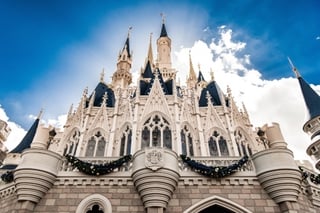 Like Apple, many brands successfully convey these qualities without actually associating them with real people. The Disney castle is a perfect example of brand identification. While it originally was based on the design of Cinderella's castle, the whimsical structure now embodies everything that is Disney. The castle has become its own celebrity. When we see it, we automatically associate the castle with the fun, fantasy, and childhood excitement we have felt when visiting Disney theme parks or while watching any of its numerous films. As you can see, it's not just about a logo design; it's about the brand experience — what we feel when we see the structure.
Other successful brand identity examples include:
Lightning McQueen from Disney's

Cars

;

Dorothy's ruby red heels from

The Wizard of Oz;

The half-mask from

The Phantom of the Opera

;

Spongebob Squarepants from Nickelodeon's

Spongebob SquarePants

; and

The mask from the

Halloween

movie series.
MAXimus: The Non-Human Star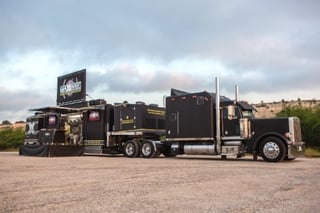 At Innovative Group, we have our own non-human star that will soon be making an impact on the culinary reality TV scene. MAXimus, Innovative Group's 72-foot-long semi-truck that packs a state-of-the-art, self-sustaining mobile kitchen, will be known as "Hell on Wheels" in the upcoming FOX television series Gordon Ramsay's 24 Hours to Hell and Back. The show, which will feature the popular Hell's Kitchen and Kitchen Nightmares celebrity chef, will show Ramsay rolling up in MAXimus/Hell on Wheels to restaurants that are on the brink of disaster. He will have 24 hours to turn around each restaurant, working inside MAXimus's completely self-contained mobile kitchen to whip up a wicked new menu and transform the restaurant's staff. With its top-of-the-line stainless steel appliances, HD cameras, touch-screen audio/visual controls, and fully-loaded entertainment options, "hell" just got a little cooler.
As food and cooking competition shows continue to dominate the airwaves, we anticipate MAXimus gaining greater levels of celebrity — the McQueen among mobile kitchens and culinary entertainment. Much like the little red animated car with yellow decals, MAXimus will travel into the living rooms of homes across the U.S. through the television show, streaming media, and related social media posts.
How MAXimus Can Promote Your Brand Identity
This upscale and impressive mobile kitchen trailer evokes feelings of awe. This Mobile Activation Xperience is perfect for reaching large audiences by meeting them where they are. With the help of MAXimus, you can set up a culinary event (in just 30 minutes) virtually anywhere and blast your brand via the vessel's huge stage, jumbotron TV and other 55" screens, and high-powered outdoor sound system.
This agile mobile asset embodies many of the qualities of our brand. Innovative Group is a company that is focused on connecting people and brands through engaging, rich experiences. As solutionists™, we are a group of innovative problem-solvers who specialize in immersive experiential marketing.
If you're ready for your next great brand experience, or just a MAXimus autograph, contact our team of innovative marketers today to get started.