WAYS TO INCREASE NEW FOOT TRAFFIC AT A LONG STANDING EVENT
Are you part of an event that has been a staple in the community for a long time? Have you ever wondered what you could do to increase attendance and draw in a new demographic to your event in order to increase your ROI?
These questions and thoughts are exactly what inspired our partners at Mecum Auctions to reach out to us. As the world leader in car auctions, no one sells more cars than the Mecum Auction Company throughout the United States. The company has been specializing in the sale of collector cars for more than 30 years, now offering more than 20,000 lots per year and averaging more than one auction each month.
Their core base has been true blue to the auction company for years, but in the last few years, they realized they could increase attendance and more foot traffic if they branched out in other ways. With their Kissimmee auction and Phoenix auctions being the largest of them all, they contacted Innovative Group to create new ways to bring additional people to the event.
THE MECUM MIDWAY
For the past couple of years, IG has engaged the crowds at Mecum in Kissimmee, FL by delivering 11 live concerts, performance shows, sponsor demonstrations, 12 cooking challenges/tastings, and a complete Culinary Cook-Off experience with a $2,500 First Place prize, all on MAX's stage. By utilizing Innovative Groups' one-of-a-kind MAXimus culinary performance vehicle as the entertainment anchor to the aptly titled Mecum Midway Experience, we were able to impress attendees with the incredible machinery used to create this vehicle, as well as satisfy their culinary appetites. A perfect compliment to the 3,200 high performance vehicles on the auction block over the 10-day event.
SUNSET SESSIONS
To help build current and new relationships in Phoenix, this year IG is introducing Arizona's newest music and culinary festival, Sunset Sessions. By bringing headlining entertainment, award winning local chefs, drinks and good times under the stars, we are also looking forward to bringing new people to the auction who have never been before.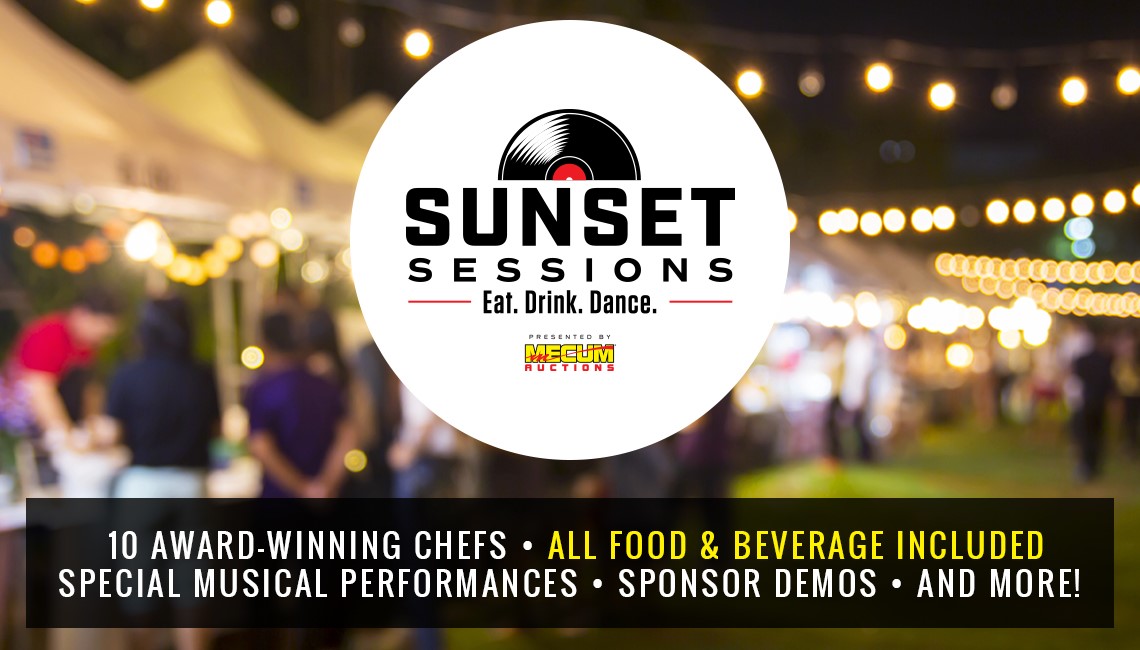 This two-night spectacular will feature headlining entertainment by alt rock band Lifehouse on Friday, March 13th and country superstar, Billy Ray Cyrus on Saturday, March 14. Admission includes access to the Mecum car auction, admission to the Sunset Sessions, live music and unlimited food and drinks, starting at just $150. Additionally, VIP admission includes premium music viewing areas with IG's exclusive Skyview suites, backstage access, access to the VIP lounge, and exclusive chef and craft cocktail experiences.
Award winning Chef Anthony Serrano is curating the team of award-winning chefs that will prepare the culinary dishes each night. The theme for Friday is "A Melody of Sonoran Flavors" which features farm-to-table ingredients and dishes native to Arizona. The theme for Saturday is "Country Rock 'n' Tacos" and will feature unique tacos and classic sliders with incredible Wagyu beef provided by Hassell Cattle Company. Other partnerships will include top-shelf WhistlePig Whiskey, the finest wine from Winery 1912 and the top Anheuser-Busch products.
Participating chefs include Derek Upton – known for his work with chef Justin Beckett and celebrity client list, David Duarte – previously worked in Michelin-starred Ristorante II Buco in Sorrento, Italy, and Josh Dae - a professional BBQ competitor. Chef Christine Vanover, editor and publisher of Girls Can Grill and Kita Roberts, known as Carnivore Girl, will also serve as part of the chef team in addition to Chef Pete Silvano and celebrity Chef Suzanne Clark.
Sunset Sessions Quick Facts
Date: March 13-14, 2020
Time: 6-9 p.m.
Where: State Farm Stadium, 1 Cardinals Dr, Glendale, AZ 85305
Cost: $150-$350 – all inclusive tickets include auction admission, live music, all food and drinks included. VIP options available including backstage access, prime viewing areas and special chef activations.
Who: All ages – children 12 years old and younger get in for free with a paid adult. One per paid adult ticket.
Tickets: www.mecumsunsetsessions.com
STEP OUT OF THE BOX
By stepping out of the box (or vehicle in this case), it's easy to see there are many ways to grow your event, draw in a new demographic, and increase your foot traffic to keep things new and fresh each and every year.
If you are ready to grow and freshen up your event, reach out to one of the Solutionists™ at Innovative Group today!