Forget idle hands being the devil's workshop. When fiery chef Gordon Ramsay returns to the small screen on June 13 with a new show, 24 Hours to Hell and Back, his "workshop" is truly going to be Hell on Wheels. Or, to be more specific, it's a 70-foot-long semi-truck called Hell on Wheels that unfolds into a state-of-the-art, self-sustaining mobile kitchen.
Ramsay is known for his hellish treatment of other chefs and restaurant owners alike, with shows like Kitchen Nightmares and Hell's Kitchen, and this new series is no different. In 24 Hours to Hell and Back, the Michelin star chef extraordinaire will travel the country looking for restaurants on the brink of flaming destruction, only to whip their staff into shape and develop a new full menu — all with only 24 hours to do it in. The ticking clock is not their friend.
The Birth of Hell on Wheels, AKA MAXimus
It truly was a match made in "hell." When Ramsay and his team set out to find the perfect kitchen set-up suitable for a chef of this caliber and TV worthy, they turned to Innovative Group for help. The show aimed to be presented in Ramsay's typical style — heated, intense, nitty-gritty, and fast-paced — all while taking on the biggest restaurant transformation challenges to date.
When faced with the incredibly high standards of one of the culinary world's most acclaimed (and colorfully demanding) chefs, Innovative Group's team of solutionists™ knew they had the perfect solution to wow both Ramsay and his audience. After all, not just any pop-up kitchen would do.
Enter Innovative Group's crowning mobile asset, MAXimus, as Hell on Wheels.
It Has Everything — Including the Kitchen Sink
It's a lean, mean, restaurant transformation machine.
MAXimus, or Innovative Group's "Mobile Activation Xperience," is a breathtaking culinary destination unlike any other. With its top-of-the-line stainless steel appliances, HD cameras, touch-screen audio/visual controls, and fully-loaded entertainment options, MAX stands alone as a truly revolutionary sponsorship activation vehicle.
Everyone who has witnessed MAXimus has been impressed with IG's culinary mobile destination — even Ramsay. So much so, in fact, that when Ramsay and his team took one look at MAXimus, they said, "This is it!"
Equipped with top-of-the-line everything, MAXimus was ready to take on the challenges that the show's restaurant owners — and Ramsay — threw its way.
Take Your Brand to the MAX
Innovative Group's badass, upscale and innovative mobile performance trailer can't help but evoke feelings of awe with its larger than life presence and mobile entertainment capabilities.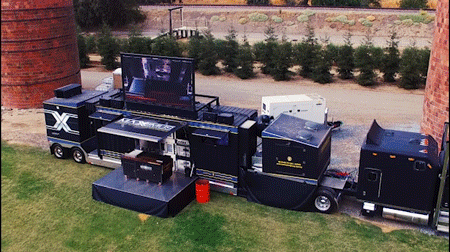 With MAXimus at your event, you can set up a culinary performance, concert, or VIP Lounge in just 30 minutes and blast your brand via its:
Expandable performance stage

Massive 25' high flip-up Jumbotron

Additional 55" monitors, and a

Cutting edge concert grade outdoor sound system
Furthermore, MAXimus is a customizable vehicle that meets any performance need. Its large volume catering kitchen includes:
Double Convection Ovens

Flat Top Grill

A Four-Burner Stove

Large Tilt Skillet

Double Fryers

Sandwich Station

Reach-In Refrigeration

Six-Tap Keg System

Walk-In Cooler

Large Island with with Cutting Board Space, a Two-Burner Cooktop, Freezer, and Flat Top Grill
Are you prepared to witness the secret weapon that is Hell on Wheels? Be sure to check out the next big (and we mean BIG) celebrity film star, MAXimus, when Gordon Ramsay's 24 Hours to Hell and Back premieres on Wednesday, June 13 on FOX @ 9/8 CST.
Gordon's worldwide team of restaurant experts and film producers realized the value behind utilizing this unique vehicle with its branding capabilities, experiential assets, performance stage, and mobility. Your company can also take advantage of Innovative Group's hot experiential marketing concepts and larger-than-life assets. If you are ready for your next great brand experience, or you just want MAX's autograph, contact this group of innovative marketers today to get started.